Dear Wilderness Defenders,
Alberta Environment and Parks has launched a new initiative – the North Central Native Trout Recovery Program – in an effort to restore native fish populations in the central and northern Eastern Slopes of Alberta.
After decades of neglect leading to declines in our native fish, things have reached a dangerous tipping point and serious intervention is needed. A handful of watersheds in which trout populations are at high risk will closed to angling for 5 years which will be coupled with other initiatives such as habitat restoration, water quality improvements, and the suppression of non-native fish.
For the first time in decades, there are solid plans for action that will allow native trout and grayling to recover and once again thrive in these watersheds.
The government needs to hear from you: participate in the consultation process before October 20 and let them know you support a future where our Eastern Slopes have healthy and functioning watersheds that provide world-class angling opportunities and clean drinking water for Albertans for generations to come.
-Joanna Skrajny, Conservation Specialist
The Issue
The North Central Native Trout Recovery Program is an integrated effort to recover native trout in the central-northern Eastern Slopes of Alberta, including threatened bull trout, Arctic grayling, and endangered Athabasca rainbow trout.
Serious intervention is now needed to restore our fish populations. A handful of at-risk watersheds will be closed to angling for a 5 year rest period, coupled with other recovery efforts. This is predicted to result in significant increases to fish population numbers in these watersheds.
Take Action
Complete the survey before October 20 and show your support for recovering our native trout.
If you would prefer to write a letter, please send it to:
The Honorable Shannon Phillips
Minister of Environment and Parks
aep.minister@gov.ab.ca
and
Dave Park
Section Head of Provincial Fisheries Allocation
Alberta Environment and Parks
dave.park@gov.ab.ca
As always, I'd appreciate receiving a copy of your letter! You can send it to me at jskrajny@abwild.ca
The Alberta Government has a 2 minute video on Youtube about this initiative.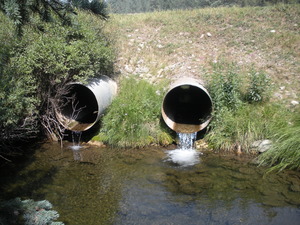 Hanging culverts can act as barriers to fish and prevent them from using their full range of habitat. Over the next 5 years, work to remove inappropriate barriers will be undertaken in the North Saskatchewan & Lower Ram, Clearwater, Berland, Pembina and the Upper Red Deer watersheds.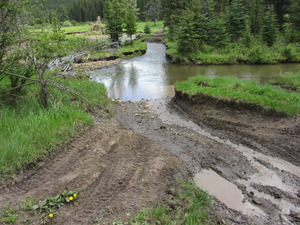 Work to address water quality concerns, such as closing and restoring OHV trails that dump sediment will be undertaken in the Clearwater, Berland, North Saskatchewan & Lower Ram, Pembina, and Upper Red Deer watersheds.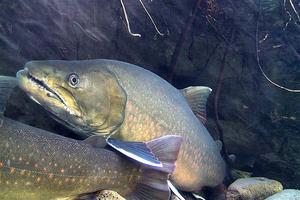 Bull Trout. Photo: R. Blanchard